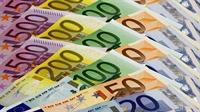 When two thirds of retail lending is foreign currency-denominated, talks about curbing foreign currency loans appear to come late. In recent years, this major vulnerability of the domestic market has been hidden under speeches about the upcoming euro adoption.
However, the scenario of our joining the eurozone is no longer valid and thus foreign currency risk is here to stay for a long time. What is there left to be done?
The gap between lei and foreign currency-denominated retail lending has widened over the past year, with the weight of funding in foreign currency climbing by 4% in February from a year ago, to 65% of the overall volume.
Read more on ZF.ro