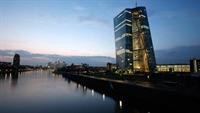 The European Central Bank (ECB) pursues its mandate and defends its independence, according to statements of the president of the institution, Mario Draghi, who responded yesterday, to some criticisms coming from several German officials concerning the lax monetary policy of the ECB.
Draghi yesterday said, in a press conference: "We have the mandate of ensuring price stability for the entire Eurozone, not just for Germany. We obey the law, not politicians, because we are independent, as stipulated by the law".
Over the last few weeks, several German politicians have criticized the ultralax monetary policy adopted by the ECB, which cut the policy rate to zero in March. The officials in Berlin are saying that this measure affects those Germans who save money.
Read more on Bursa.ro