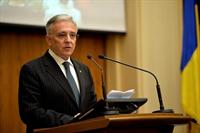 NBR governor Mugur Isărescu apparently ignores the fact that banks are refusing to negotiate with their customers and insists, after the passing of the law of giving in payment, that the parties of the loan agreement should negotiate: "Negotiation is the basis of the functioning of the market economy, in the European Union, because that is where we are living. Romania was and has been a loyal partner to the European project and we should not forget that".
It is well know that for two years, when the crisis of Swiss franc loans has begun, most of the commercial banks did not follow the repeated advice of the NBR governor to negotiate with their customers.
Mugur Isărescu yesterday reiterated the exhortation he has addressed to banks many times - to abandon their arrogance.
In the same speech in which he offered that advice, the NBR governor demonstrated arrogance himself, even though he apparently had a humble approach.
Read more on Bursa.ro