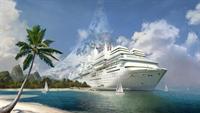 Around 7,000 Romanians went on a cruise holiday last year, while worldwide 17.5 million people worldwide choose to spend their holidays on cruising ships every year.
Nevertheless, Romania's cruise market registered annual increases of 50-60% during the crisis period, according to MSC Cruises, one of the world's biggest cruise companies.
"We are investing and as a matter of fact all our rivals are investing on the Romanian market. Travel is among the fields with the highest potential in Romania, even during a crisis, and in 2011 we expect it to rise by around 8-9%," says Giovanni Ponticelli, the representative for Romania of MSC Cruises.
Read more on ZF.ro