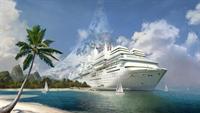 Romania's cruise market is estimated this year at EUR 10 million and the upward trend of the recent years is expected to continue because of growing demand for this type of holiday, Razvan Pascu, tourism marketing consultant with Travel Communication Romania.
"According to specialist statistics, the global cruise market this year exceeds 32 billion euros, with a total of 20.9 million registered passengers, with both parameters – the value and the number of tourists – witnessing growth of up to 5% compared to 2012. Romanians increasingly fancy the all-inclusive concept that offers the opportunity to visit several cities," said Razvan Pascu.
Travel agencies in Romania estimate that nearly 20,000 Romanians will go on cruise holidays in 2013, so that the local market will reach about 10 million euros.
Read more on Financiarul.ro