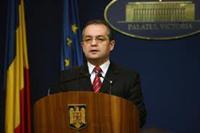 Romania's Prime Minister Emil Boc said Friday the new "First Home" program will start after Easter and its application norms will be approved in the next two weeks.
The prime minister met with SME loan guarantee fund president Aurel Saramet to analyze offers made by banks, after the Government decided that the state will guarantee 50% of the value of loans through the program.
Speaking after the meeting, Boc said unofficial data show at least three banks are willing to participate in the "First Home" program under these new conditions.
Read more on Mediafax.ro