Romanian Lower House Committee Rejects Bills Reducing VAT On Basic Foods, Taxes On Low Pensions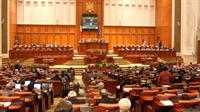 The committee for budget and finances in the Romanian Chamber of Deputies on Tuesday rejected a bill reducing VAT on basic foods to 5%, as well as another making pensions lower than 2,000 lei (EUR1=RON4.1147) tax-exempt.
The bills will now be debated by the Chamber plenum.
They had been sent back to the Parliament by President Traian Basescu with a request for re-examination.
The Senate re-examined the tax exemption bill and voted to reject it, but kept the lower VAT bill as previously adopted.
Read more on Mediafax.ro