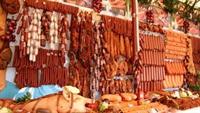 Angst, one of the biggest cold cuts producers with 48 million euros in turnover last year, delivers meat and meat products worth around 5 million euros to Howard Johnson, Crowne Plaza, Continental, Hilton hotels, City Grill, Pizza Hut and McDonald's restaurants and even to the restaurant in the Ikea furniture store.
"Around 10% of our turnover is generated by products that we deliver to hotels and restaurants," says Ştefan Pădure, 35, vice-president of Angst, controlled by the Minea family.
This segment of the Angst business is less visible, with company representatives mainly talking about production and retail. The Angst plant in Buftea makes toppings for Pizza Hut, delivers ham for McDonald's and sausages for Ikea's hot dogs.
Read more on ZF.ro