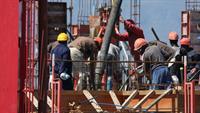 The volume of construction works dropped to six months by 10.2%, as gross series, taking into account the drops in capital repairs' works, by 18.4%, and in the maintenance and current repairs, by 12%, and as adjusted series after the number of working days and seasonality dropped by 9.4%, according to the National Institute of Statistics.
However, the new construction works recorded a drop by 7.7%.
In terms of the engineering constructions, the volume of works dropped by 25.4%, and to the residential and non-residential buildings dropped by 49.6%, respectively by 5.5%.
Read more on Bursa.ro