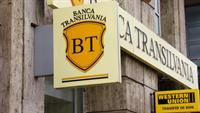 Banca Transilvania (TLV) derived net income worth 31.7m lei in the first quarter, almost double last year's first quarter level. On Friday, the bank's shares gained 1.7% on a "red" market.
The falling provision expenses and a slight interest income increase brought Banca Transilvania the biggest quarterly income since the onset of the crisis, worth 31.76m lei (7.5m euros).
Against the same period of last year, the bank's net income advanced by 98%, while the institution registered net provision expenses of 161m lei (38.1m euros) in the first three months of this year, 30m lei less than in the same period of 2010.
Read more on ZF.ro