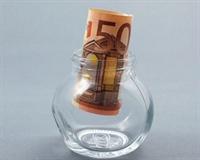 The average interest rate for individuals' deposits shed half a percentage point in the first two months of 2011 and reached 7,1% per annum in late February.
In parallel, inflation climbed to 7.6%, so that depositors came to realise interest rates from banks no longer keep up with price increases.
Inflation slightly climbed above the average deposit interest rate of the summer of 2010 in the wake of the VAT hike, but the gap widened in February, when foodstuff prices soared and drove inflation up by 0.6%.
Read more on ZF.ro