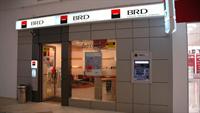 BRD-SocGen, the second biggest bank in terms of assets, ended 2010 with net income worth almost 501m lei, down 36% from 2009, in line with the Romanian accounting standards (RAS).
This is the biggest income derived on the banking market in 2010, considering only 20 banks made profit, yielding total cumulated losses of 304m lei on the entire market.
According to some banking sources, BRD is followed at a distance by Raiffeisen and BCR in terms of RAS-calculated net annual income.
Read more on ZF.ro