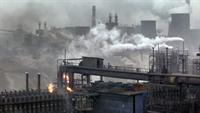 ArcelorMittal Galaţi, Romania's biggest steel plant controlled by Indian billionaire Lakshmi Mittal, announced 1,050 employees would leave the company by yearend in the wake of some voluntary departure schemes.
"The employees were informed about the final results of the voluntary departure scheme.
1,460 applications have been received and 1,050 have been accepted. This illustrates for us both the need to improve the plant's productivity and the one of retaining competences. The employees will leave by yearend," specified ArcelorMittal Galaţi representatives.
Read more on ZF.ro