Victor Ponta: Basic foodstuffs VAT cut after finely tuning IMF accords, budget discipline obligations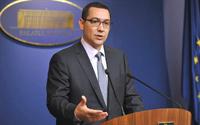 Prime Minister Victor Ponta told private news channel Romania TV he wants his Government to cut the value-added tax (VAT) on basic foodstuffs, but he underscored there is need of a 'fine tuning' between the budget-related obligations and the accords with the International Monetary Fund (IMF) for this to happen.
'I'd like for us to succeed in doing this thing this year and I continue to believe in this type of differential taxation for the cut VAT for the domestic producer, within a period of time that will prove to bring more money to the budget /…/ Here we simply must find a fine tuning relating to the budget and the obligations that we have with respect to the budget deficit, the budget revenues and our economic plans', Ponta stressed.
The prime minister said the cut VAT for basic foodstuffs will be discussed with the IMF delegation due to visit Bucharest and only afterwards will the authorities be able to give an answer on whether such measure will be applied in 2013.
Read more on Financiarul.ro