Unemployment rate increased to 7.6% in Q1. 741,000 people were jobless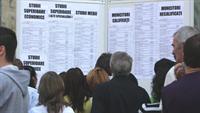 Unemployment rate, according to the International Labour Office was 7.6% in the first quarter of the year compared to the 7.3% registered in the previous quarter but it registered a decrease compared to the 2010 first quarter when unemployment was 8.1%, the National Statistics Institute reads. The highest unemployment rate, of 23.6% was registered among young people ages 15 to 24.
In the first quarter of 2011, the active population of the country was 9.81 million people of which 741,000 were jobless.
Read more on Hotnews.ro