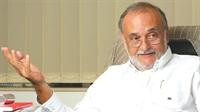 Romanian businessmen Dinu Patriciu and Frank Timis have been included in this year's wealthiest people list compiled by Forbes.
Patriciu is ranked 540th with a fortune of $2.2 billion. Last year, the businessman was ranked 437th with a similar fortune.
Frank Timis is the new Romanian entry in the Forbes list of billionaires with a fortune of $1.1 billion (1057th in the ranking).
Read more on Mediafax.ro