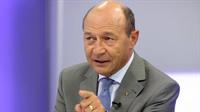 President Traian Basescu says the European Union will ultimately reach an agreement on its 2014-2020 budget, although he underscored there still are many obstacles to achieving an accord and he cited the downturn, the net contributors who want to cut the contributions and the beneficiaries who want a reasonable European budget to be maintained.
'I think we'll ultimately find a solution', Basescu said on Friday.
The European Council continues an extraordinary meeting aimed to negotiate the European Union's multi-annual financial outline for 2014-2020 on Friday, starting 1 p.m. (Romanian time).
Read more on Financiarul.ro