The rise of the Euro throws a monkey wrench in the plans of the Mayoralty of Bucharest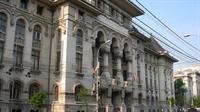 The evolution of the Euro has messed up the plans of the Mayoralty of Bucharest, which has refinanced in lei a loan made in Euros, precisely to escape the currency risk.
The Euro yesterday reached a three-and-a-half-month high, and a half at the exchange rate of the NBR (4.4594 lei), and on the interbank market it has passed 4.46 lei, as the Mayoralty needs to exchange the 2.2 billion lei it raised on last week's bonds issue as soon as possible. The offer was intended to raise the amount needed to repay the debt that was issued in 2005, which is coming due next month.
At yesterday's exchange rate, the money raised through the bonds won't be enough to cover the amount of 500 million Euros.
Read more on Bursa.ro