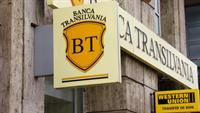 In the first semester, Banca Transilvania (BT) saw a net profit of 179.62 million lei, up 47% YOY, according to a report by the lender. In the first semester, the gross profit of BT was 193.22 million lei, up 28.6% compared to the end of June 2011.
The operating revenues climbed 12% between June 2011 - June 2012, to 772.16 million lei, due to the 21% increase of revenues from financial operations, 10% of net commission revenues, and 7% of net interest revenues, according to the press release.
The operating expenses of the bank also grew to 414.58 million lei, at the end of the first quarter, compared to 354.75 million lei, during the corresponding period of last year. The increase was caused by the expansion of activity, as well as by the 20% increase in employee costs, due to the payout of performance bonuses, the bank's officials explain.
Read more on Bursa.ro