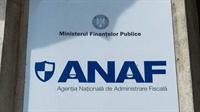 The Court of Accounts has identified several violations of the legal regulations in effect, at the National Tax Administration Agency (ANAF). Those irregularities have resulted in the alteration of the financial statements for the year 2014.
Some of the irregularities indicated by the statement of the Court of Accounts for 2014 include the making of "erroneous accounting records in off-balance sheet accounts and the failure to follow the mandatory correlations, imposed through the regulations of the Ministry of Public Finance, when it comes to the financial statements of the public institutions".
Differences have also been found in all of the eight regional departments of the ANAF, as well as in the central apparatus and they are the result of the incorrect recording of the claims against taxpayers transferred between departments.
Read more on Bursa.ro