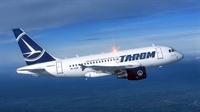 Tarom airline Management Board has been completed and made public on Friday, among the selected figures being Romania's first astronaut having flown into the Space, Dumitru Prunariu.
The complete list also includes Dan Pascariu (Unicredit Tiriac bank president), Lucian Isar (a former minister-delegate for the business milieu), businessman Marius Ghenea, Valentin Macec (former Management Board chairman and an advisor to Transport Minister Ovidiu Silaghi), Ciprian Ladunca (a former Alico Asigurari insurance group managing director) and Heinrich Vystupil (a former Austrian Airlines managing director for Romania and Moldova).
'The seven Management Board members will elect Tarom CEO, following an analysis, but the main goal is to make Tarom company profitable', said Transport Minister Ovidiu Silaghi, who unveiled the list of the future Tarom Management Board members.
Read more on Financiarul.ro