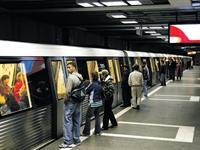 The Bucharest Underground fares could go up between 25 percent and 33 percent, according to a draft order published by the Transport Ministry.
A two-journey card will be by 25 percent more expensive and will cost 5 lei, up from 4 lei at present; a 10-journey card will cost by 33 percent more, namely 20 lei, up from a current 15 lei; a weekly travel card with unlimited journeys will cost 25 lei, up from 20 lei (plus 25 pct), and the monthly travel card with unlimited number of journeys will cost 75 lei, up from 60 lei now (plus 25 pct).
The monthly 62-journey travel card will have its price raised by 30 percent to 65 lei from 50 lei at present and a one-day travel card will be by 33 percent more expensive, to cost 8 lei (up from the current 6 lei).
The draft order is to be published in the Romanian Official Journal and will take effect three days after it is published.
Read more on Financiarul.ro