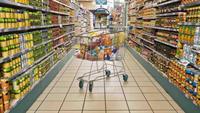 Romanians spent 5% less on fast moving consumer goods last year compared to 2009, according to survey conducted by market research company GfKRomania.
Fast moving consumer goods spending dropped 4% in the first half of 2010 and 6% in the second half of the year, following the implementation of a set of harsh austerity measures.
Romanians spent 19% less on deodorant, 14% less on shampoo, 12% less on soap and toothpaste and 11% less on personal care products. They also spent 6% less on beverages.
Read more on Mediafax.ro