Romanian deputy claims fiscal officials demanded him bribe to prevent controls on his businesses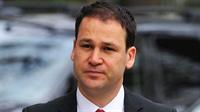 Social Democratic Party (PSD) deputy Robert Negoita has claimed that representatives of Romanian fiscal authority ANAF demanded him bribes amounting to 500,000 euro to prevent fiscal controls on his real estate businesses. He told Antena 3 news channel that persons contacted him to "suggest" that he pay the money to be left alone.
He said he did not pay the amount and so an "abusive control" "in breach with any rule or regulation" followed. As a result, his access to certain properties and accounts was blocked, Negoita told Antena 3.
Read more on Hotnews.ro