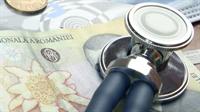 Romania's Senate committee for healthcare on Tuesday endorsed the bill introducing a copayment system for public healthcare services.
The members of the committee voted six to two to endorse the bill put forth by the Government.
The bill sets the total yearly of copayment will not exceed 600 lei (EUR1=RON4.2536) and consultations, investigations and hospital days beyond this margin will be free of charge.
Read more on Mediafax.ro