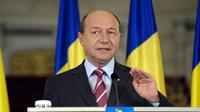 President Traian Basescu urged Prime Minister Emil Boc to withdraw the new draft health law, at a news conference given at the presidential Cotroceni Palace this evening.
'I publicly urge the prime minister to withdraw the draft law aimed at the health care reform. In fact, I discussed with the prime minister about the intention to do this. And it is me who is doing it, because the presidential commission was here, here were the specialists who dedicated themselves to the attempt to make a diagnosis and to offer solutions', Basescu said.
The president added he had noticed that disinformation on the health bill issue had massively' been used and the biggest lie' was the one related to the privatisation of the emergency medical service SMURD.
Read more on Financiarul.ro