Minister Eugen Nicolaescu asks public health departments to activate action plans for hot days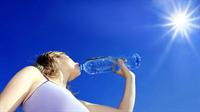 Minister of Health Eugen Nicolaescu asked the public health departments and pre-hospital emergency services to activate the action plans for hot weather conditions, so that the medical risks caused by high temperatures during this period to be reduced, the Ministry of Health informs in a press release.
As well, the Ministry of Health asked the ambulance services to alert the crews and to supplement them, where the number of requests are on the rise.
The Departments of Public Health have to work with the local authorities to open assistance points for the population if needed.
Read more on Financiarul.ro