Romanian President Supports Govt's Fiscal Strategy, Says Country Needs More Public Sector Layoffs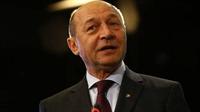 Romanian president Traian Basescu said Friday he supports the Government's recently adopted fiscal strategy, adding Romania would default if it keeps borrowing money to pay wages and pensions.
"Romania is borrowing money to pay wages in the public sector and pensions. We're borrowing EUR3.5 million this year for pensions and the difference up to EUR4.8 billion to pay public sector wages," said Basescu, adding Romania cannot afford to continue like this.
"I support the Government's fiscal strategy because I realize we have no other solution," the president said.
Read more on Mediafax.ro