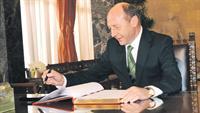 Romania cannot adjust pensions when it has a public pension deficit of EUR3.6 billion, Romanian President Traian Basescu told private television ProTV.
The head of state pointed out in an interview broadcast Sunday that salaries cannot be hiked to the level previous to the summer of 2010, when the government implemented severe staff spending cut measures, as Romania still has a surplus of 200,000 state employees.
Basescu highlighted Romania must observe the requirements included in the financial agreements signed with the European Union and the International Monetary Fund, and added that abandoning these programs would be a blow harder than going back to recession.
Read more on Mediafax.ro