Romanian Parliament Committees Endorse Romeo Ionut Comaniciu As Insurance Regulator President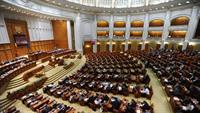 The Romanian Parliament's budget and finance committees on Tuesday endorsed Romeo Ionut Comaniciu for the position of president of insurance regulator CSA with 21 to 12 votes and one abstention.
Comaniciu, director of insurer Astra Asigurari's subsidiary in Brasov, was proposed for the position of CSA president by the ruling Democratic Liberal Party, whose initial proposition was Cristian Constantinescu.
Constantinescu was not endorsed by the budget and finance committees, which held a vote on Monday.
Read more on Mediafax.ro