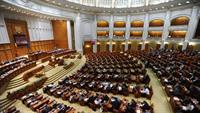 MPs with the Romania Chamber of Deputies' committee for labor have until November 14 to draw up a report on the social welfare bill, that will then be put to the vote in plenary, House secretary Niculae Mircovici said Tuesday.
Mircovici said the Chambers standing office set November 14 as the deadline for a report on the bill and amendments may be submitted by November 11.
He added the bill needs to be put to the vote as soon as possible so the Parliament can move on to debate and vote on the 2012 state budget.
Read more on Mediafax.ro