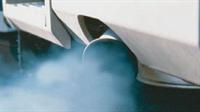 The Romanian Chamber of Deputies on Thursday adopted a bill on the car pollution tax, which amends the first registration tax criticized by the Court of Justice of the European Union.
The bill has already been approved by the Senate and will take effect after it is published in the Official Journal, the Environment Ministry said in a press release Thursday.
The new car pollution tax bill, which was approved by the Government end-August, states the new tax will be charged for both new and used cars registered for the first time in Romania, regardless of whether the vehicle was produced in the country or abroad, as well as for cars registered before 2007, for which the tax was not paid.
Read more on Mediafax.ro