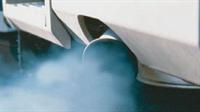 Romania will apply the car pollution tax currently in effect until 2013, Environment Minister Laszlo Borbely said Wednesday at a conference organized by the Foreign Affairs Ministry.
Borbely said he hopes the Parliament will adopt as soon as possible the new car pollution tax bill, drafted by the ministry, which reduces the tax by as much as 25%, but also charges on the sale of cars registered before 2007, for which the tax has not been paid.
On September 6, the minister said that, in mid-2012 or in 2013, he plans to eliminate the pollution tax paid upon a car's first registration and introduce a "green card" certifying the amount of emissions produced by the vehicle.
Read more on Mediafax.ro