Romanian Military Retirees Threaten Protests In Bucharest Over Recalculated Military Pensions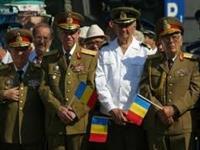 The Romanian Union of Laid off Military Staff will stage protests in capital Bucharest on January 24 disgruntled that authorities refuse to observe court rulings on recalculated military pensions.
Union vice-president Valeriu Pricina said Monday protesters will march from the Victoria Palace to the headquarters of the Interior Ministry, the Defense Ministry and the Romanian Intelligence Service on the day celebrating the union of the Principalities of Wallachia and Moldavia. He said protesters also want to leave on a march to the presidential palace if they get authorization.
Read more on Mediafax.ro