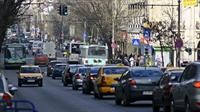 Revenues on the Romanian mandatory civil liability car insurance RCA segment exceeded voluntary car insurance CASCO underwritten premiums in 2010, for the first time in the past ten years.
The situation was triggered by a decline of the car and leasing markets and a reduction in people's revenues.
RCA underwritten premiums totaled 2.51 billion lei (EUR1=RON4.1869) last year, up 11.3% compared to 2009, while CASCO underwritten premiums dropped 25.1%, to RON2.49 billion, according to insurance regulator CSA.
Read more on Mediafax.ro