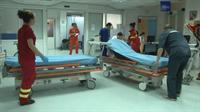 A 53 year-old man in Bistrita Nasaud, northern Romania, who had been diagnosed with AH1N1 flu, died in hospital Friday night.
Bistrita Nasaud emergency hospital spokeswoman Gabriela Remes told Mediafax Saturday the man was in bad condition and could not be saved.
She said the man was admitted to hospital on January 21, when he was diagnosed with acute pneumonia. According to Remes, he was also suffering from heart problems and obesity.
Read more on Mediafax.ro