Romanian MPs Draft Bill Forcing Supermarkets To Designate Areas For Traditional Romanian Products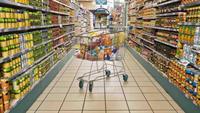 Two Romanian lawmakers have submitted a bill in Parliament that would force supermarkets to have special designated areas for traditional Romanian products, in a bid to support the local economy.
Liberal MP Horea Uioreanu and democrat liberal MP Mircia Giurgiu submitted a bill forcing supermarkets to assign at least 10% of their display space to traditional Romanian food and non-food products.
Uioreanu told a news conference Sunday he discussed the bill with Agriculture Minister Valeriu Tabara, who supported the idea.
Read more on Mediafax.ro