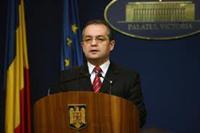 Romania's Government has decided to forbid collective labor contracts valid until later than December 31, 2011, as per the amended Labor Code, approved on Monday, which will be adopted through a vote of confidence in Parliament on March 8.
In addition, the current collective labor contracts may not be renewed, but will be in effect only until the end of their validity.
Prime Minister Emil Boc said last week that collective labor contracts will be regulated through a special law, to be adopted immediately after the Labor Code.
Read more on Mediafax.ro