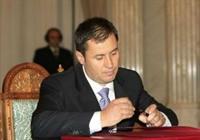 Romanian Interior Minister Traian Igas said Wednesday only about 9,000 people will be laid off from the ministry this year, denying plans to sack double that number.
"The figure 18,000 is imagines. We've never put forth a clear figure because we haven't finished indentifying all the positions to be eliminated from the organizational chart," said Igas.
He said about 9,000 people would be laid off, but their number is not yet certain. He added the first to leave will be the people that haven't been doing their jobs properly.
Read more on Mediafax.ro