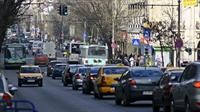 Romanian insurers will have to increase policy tariffs or reduce current spending if revenues on the car insurance segment continue to drop in 2011, insurer Allianz-Tiriac general manager Rangam Bir said Wednesday.
According to Bir, insurers' liquidity will be impacted if car insurance underwritten premiums continue to decrease this year, which will trigger tariff hikes or spending cuts.
Allianz-Tiriac registered revenues amounting to RON1.03 billion in 2010, down 20% compared to the previous year.
Read more on Mediafax.ro