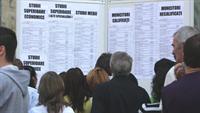 The Romanian joblessness rate, seasonally adjusted according to the International Labour Office (ILO) standards was put at 7 percent in July, down 0.3 percentage points from the prior month and by 0.5 percent less than in July 2011, the National Institute for Statistics said in a release.
The number of the Romanian unemployed (aged between 15-74) is put at 694,000 persons in this July, marking a drop from June (727,000) and from last July (732,000).
Men's unemployment rate is higher by 1.3 percent than women's; it stands at 7.6 percent for men and 6.3 percent for women.
The joblessness rate for adults (25-74 years old) is estimated at 5.7 percent in this July; the rate of out-of-job men was of 6.3 percent and women 5 percent.
The out-of-work aged between 25-74 account for 74.9 percent of the overall jobless estimated for this July.
Read more on Financiarul.ro