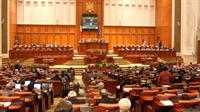 Romania's Government will seek a confidence vote in Parliament to pass new labor legislation next Tuesday, March 8, and amendments to the bill are expected until Friday evening, said Senate vice-president Ioan Chelaru after the Parliament's standing office meeting.
The Government on Monday approved the final draft of the Labor Code, for which it plans to seek a confidence vote and has sent the bill to Parliament, where it can be amended.
The opposition has said it will submit a no-confidence motion in Parliament over new labor legislation. The motion needs to garner 236 votes to topple the Government.
Read more on Mediafax.ro