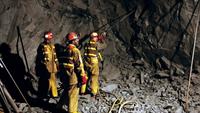 Romania's Government on Wednesday decided the start of procedures to lay off 1,300 employees of several state-owned energy companies this year, and laid off workers will get severance pay and unemployment aid until 2014.
The Cabinet approved a government decision restructuring staff of Economy Ministry-controlled energy companies in Wednesday's meeting.
According to the list approved by the Government, the mining company CNH will lay off 900 employees, thermal power producer Termoelectrica will lay off 300 people and Electrocentrale Deva will shed 100 employees.
Read more on Mediafax.ro