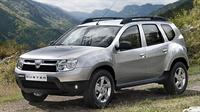 The car factory in Mioveni, southern Romania, has made four million Dacia cars so far, the Romanian carmaker, owned by France's Renault, said in a press release Friday.
"The four millionth Dacia car was delivered to its owner this week. The car is a 4X4 Dacia Duster," the company said.
The company added the time it takes to sell one million cars has decreased from 17 years (the first million cars) to three years and five months at present.
Read more on Mediafax.ro