Romanian Carmaker Dacia Asked For RON42M In State Aid In 2010 To Build New Logan Model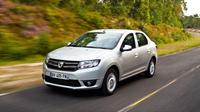 Romanian carmaker Automobile Dacia asked for 42.4 million lei (EUR10.5 million) in state aid last year to develop the X 52 project concerning a new Logan model to be launched in 2012.
In 2010, Dacia received non-reimbursable funds amounting to RON20 million to open a production line for the new family of Euro 5 engines. The funds were granted through the operational program "Increasing Economic Competitiveness," co-financed from the European Regional Development Fund.
Read more on Mediafax.ro