Romania to conclude new agreement with IMF in February and to finish current agreement sooner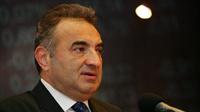 Romania will finish the current agreement with the International Monetary Fund (IMF) in January 2013, two months earlier than planned, and will conclude a new agreement in February, according to Minister of Public Finance Florin Georgescu.
'We finish the current agreement in January and probably in February we shall have a new agreement with the IMF, the European Commission and the World Bank. This agreement will make all players responsible,' the official of the Ministry of Public Finance told the Bucharest Forum on Friday.
The Minister of Finance made it clear that the IMF mission would return to Bucharest most probably about January 15, when the budget for 2013 is sure to be ready, no matter who will make the new government after the December election.
Read more on Financiarul.ro