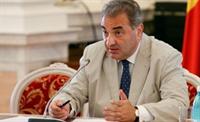 Minister of Public Finance Florin Georgescu announced the successful completion of the tap of its euro-denominated 6.5% June 2018-dated bond issue that replenishes the country's forex reserves by EUR 750 million.
"Today we successfully set the size of the euro-bond issue at 750 million euros, which flow to the Treasury of the Ministry of Finance, which is kept as an account of the National Bank, so this money goes to the country's foreign exchange reserve … for an interest rate of 5.15% per annum,' Minister Georgescu told the annual Meeting of Romanian Diplomats.
He added that with all this borrowing, Romania is just as credible a state as one year ago. He mentioned that the environment in Romania is favorable for attracting foreign investments and that the government has taken steps to encourage the business milieu.
Read more on Financiarul.ro