Romania has to borrow 3 bln. euros to finance budget deficit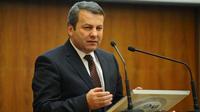 Romania has to borrow three billion euros from the foreign market to finance its budget deficit amounting to 4.4 percent of the Gross Domestic Product (GDP), in 2011.
According to Public Finance Minister Gheorghe Ialomiteanu, Romania has to finance a deficit of round six billion euros (24 billion lei), in 2011 and in case it fails financing itself from the market it might resort to money from a new precautionary agreement with the International Monetary Fund (IMF) and the EU Commission (EC). In 2011, over 54 percent of the budget deficit is funded from the foreign market and 46 percent from the domestic market, and the goal is to reach fifty-fifty percentage, FinMin Ialomiteanu told a press conference, on Monday.
Read more on Financiarul.ro