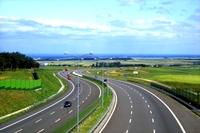 Romania will terminate its contract with constructor Bechtel for 300 km of the Transylvania Highway on which work has not yet started, sources in the Ministry of Transport told online newspaper Gandul.
Bechtel will only complete its current work on two sections: 2B - Campia Turzii-Gilau and 3C - Suplacu de Barcau-Bors. The sections together make up 118 km of the highway's planned 415 km.
According to the sources, an official announcement should come Wednesday, or Thursday at the latest.
Bechtel officials have declined to comment, but said they were working on an official statement, to be issued later.
Read more on Mediafax.ro