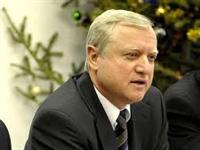 Romania may raise public sector wages 15 next year, either at once or in tranches, Marian Sarbu, head of coalition party UNPR, told Radio France International Tuesday.
"Public sector employees would recover 15 percentage points, after they recovered another 15 in October last year, so the 25% wage cut operated in 2010 could be covered in 2012," Sarbu explained.
Asked where the Government would find the money needed to raise wages, Sarbu said the main financial resource will be economic growth expected in 2011 and 2012.
Read more on Mediafax.ro